Bruce Springsteens Born To Run House On The Market In New Jersey
According to Melissa Allison with Zillow the home for Bruce Springsteen is on the market.
It ain't a beauty, but, hey, it's all right — and it's getting lots of attention as the home where Bruce Springsteen wrote "Born to Run," "Thunder Road" and "Backstreets."

This 828-square-foot cottage, listed for $299,000 in The Boss' hometown of Long Branch, NJ, is a couple of blocks from the beach.
In the mid-'70s, the neighborhood was bohemian and the songwriter was under pressure to write a breakout album — which he did. The songs are iconic, and they're also tied to their place in the same way Springsteen is.
He was sitting on the edge of his bed in this home when the words "born to run" came to him, Springsteen said in the documentary "Wings for Wheels."
"I worked very, very long on the lyrics to 'Born to Run,' because I was very aware that I was messing with classic rock'n'roll images that easily turned into cliches," he said.
The current owners bought the home six years ago because of its rock legacy.
Saving it from possible demolition, they planned to renovate and turn the home into a tribute to Springsteen. Marriage, divorce and work got in the way, although the home does have a new roof and new wood floors.
They hope the next owners will preserve the spirit of the 40-year-old album that started here. While it's no mansion of glory, one of the owners told NJ.com, "I hope it doesn't just become some house on West End Court."
Blog by Melissa Allison with Zillow.
http://www.zillow.com/blog/born-to-run-home-on-the-market-185592/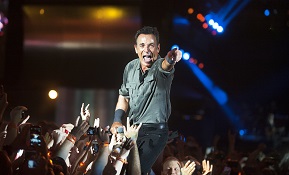 Author:
Brad Smith
Phone:
651-755-5232
Dated:
October 26th 2015
Views:
180
About Brad: Brad Smith has enjoyed a thriving 10-year career as a Realtor using his past business experiences. A...